December ClassicsCAT: Re-read a Classic
Entre no LibraryThing para poder publicar.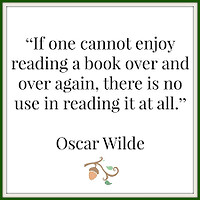 As the year comes to a close, settle down, relax and enjoy a re-read of a favorite classic. It can be a children's classic, a holiday classic, a classic poem, a classic you read in school, a classic you've read many, many times or a classic that you remember you loved years ago but the details are getting a bit hazy. The choice is up to you what you'd like to re-visit this month.
Here's hoping you have an enjoyable read the second (or third or fourth or ....) time around, and maybe get a few new insights this reading.
As always remember to update the wiki:
https://wiki.librarything.com/index.php/ClassicsCAT_2023
All year I've been re-reading Dickens in publication order. Right now I'm about half-way through
David Copperfield
and should finish up in December, and then move on to a re-read of
Bleak House
. Both of these I'm doing on audiobook. And even more Dickens, as I usually re-read
A Christmas Carol
in December.
I just finished a re-read of
Anne of Green Gables
which I read many years ago; and I must say on this re-read (as someone who is now older than Marilla), I had more sympathy for Marilla and the changes she goes through during the course of the book. I'll probably re-read
Anne of Avonlea
in December, too.
I've started
A Passage to India
by
E. M. Forster
. I remember the bare bones, but I was young when I read it and the times were different. I'm getting more out of it this time.
I'll think about this. I'm not sure what I want to re-read yet. I do have one in mind I want to re-read, but I know that as busy as my life is right now that I can't possibly re-read it in a single month because of how huge it is and still get other reading I want to knock out done.