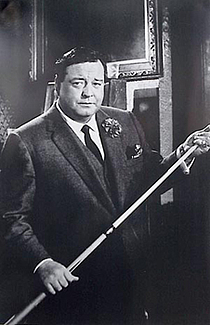 Livros

1,421

Coleções

Nuvens

Mídia

Aderiu

Feb 24, 2009
Real Name

Jackie Gleason

Sobre Minha Biblioteca

My library has about 1,700 books, journals, proceedings and pamphlets (~1,400 books). They are on a wide variety of subjects, but many focus on the parapsychology as that was a distinct passion of mine. Within the field of parapsychology, my library offers materials on such topics as: witchcraft, folklore, extrasensory perception (ESP), unidentified flying objects (UFOs), reincarnation, mysticism, spiritualism, mental telepathy, the occult, ghosts, clairvoyance, cosmology, demons, hypnosis, life after death, mediums, psychical research, voodooism, and others.

My library is held at the University of Miami Library which has an exhibit available:

http://scholar.library.miami.edu/jg/index.html

The complete bibliography can also be found there:

http://ibisweb.miami.edu/search~S11?/aJackie+Gleason+Collection./ajackie+gleason...

About Me

Born on February 26th, 1916, in Brooklyn, I would become one of the best known comedians of America. While I may be best remembered for my role of Ralph Kramden in the T.V. show The Honeymooners, I had roles in 26 movies, 11 different TV shows, and 5 stage performances, not including dozens and dozens of records. I would die on June 24th, 1987 in my home in Florida.
Este site usa cookies para fornecer nossos serviços, melhorar o desempenho, para análises e (se não estiver conectado) para publicidade. Ao usar o LibraryThing, você reconhece que leu e entendeu nossos Termos de Serviço e Política de Privacidade . Seu uso do site e dos serviços está sujeito a essas políticas e termos.