Literary Centennials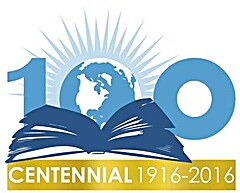 Este grupo está oficialmente inativo. Acontece!
Se desejar reativar este grupo ou criar um novo grupo com o mesmo tópico, veja esta página.
Literary Centennials is a group for celebrating the 100th, 200th, etc. birthdays of major authors by reading their works together. We will also celebrate the anniversaries of major works of literature and even significant historical events.

Some centennial authors in 2015

Herman Wouk, born 17 May 1915
Saul Bellow, born 10 June 1915
Jean Stafford, born 1 July 1915
Margaret Walker, born 7 July 1915
Arthur Miller, born 17 Oct. 1915

And celebrating a bicentennial in 2015

Anthony Trollope, born 24 Apr. 1815

Some notable works first published 100 years ago

The Underdogs by Mariano Azuela
The Thirty-nine Steps by John Buchan
Pellucidar by Edgar Rice Burroughs
Victory by Joseph Conrad
The Good Soldier by Ford Madox Ford
Herland by Charlotte Perkins Gilman
The Rainbow by D. H. Lawrence

And works first published in 1815

Emma by Jane Austen
The Devil's Elixers by E. T. A. Hoffmann

These are just a few of the authors and works with centennial anniversaries in 2014. For a more complete list, see this message topic. It will point the way to our discussion thread for each author or work. If there is no discussion underway, please start one!

For planning next year's reading, here is a list of 2016 Centennials.

If you wish to continue celebrating some 2014 anniversaries, the list can be found here.
Tópico

Tópico

Mensagens

Última Mensagem

2019: List of Centennials

3 por ler

/ 3

kac522

,

Janeiro

2019
Camus - His Non-Fiction - discussion

12 por ler

/ 12

GKopy

,

Maio

2018
1914 Anatole France: The Revolt of the Angels

3 por ler

/ 3

elenchus

,

Outubro

2017
Juan Rulfo centennial

1 não-lido

/ 1

defaults

,

Maio

2017
1914 Saki - Beasts and Super-Beasts

2 por ler

/ 2

elenchus

,

Janeiro

2017
1916: Jackson: The Sundial

2 por ler

/ 2

pamelad

,

Novembro

2016
1916: Percy – The Moviegoer

1 não-lido

/ 1

MissWatson

,

Outubro

2016
1916: Jackson - The Bird's Nest

3 por ler

/ 3

pamelad

,

Outubro

2016
1916: Jackson - We Have Always Lived in the Castle

7 por ler

/ 7

pamelad

,

Setembro

2016
1916: Jackson: Hangsaman

2 por ler

/ 2

pamelad

,

Setembro

2016
1916: Jackson - The Road Through the Wall

4 por ler

/ 4

pamelad

,

Setembro

2016
1914 Sinclair Lewis - Our Mr Wrenn

3 por ler

/ 3

elenchus

,

Setembro

2016
1815: Anthony Trollope - Chronicles of Barsetshire VI: The Last Chronicle of Barset

3 por ler

/ 3

rebeccanyc

,

Agosto

2016
2016: LIST OF CENTENNIALS

12 por ler

/ 12

MissWatson

,

Junho

2016
1816: Walter Scott - A Very Good Year

6 por ler

/ 6

elenchus

,

Maio

2016
1815: Anthony Trollope - Chronicles of Barsetshire IV: Framley Parsonage

3 por ler

/ 3

rebeccanyc

,

Maio

2016
1914 Jack London - The Mutiny on the Elsinore

1 não-lido

/ 1

baswood

,

Maio

2016
1914 James Oliver Curwood - Kazan

1 não-lido

/ 1

baswood

,

Abril

2016
1914 Marie Corelli, Innocent: Her fancy and His Fact

4 por ler

/ 4

edwinbcn

,

Abril

2016
1815: Anthony Trollope - Chronicles of Barsetshire III: Doctor Thorne

3 por ler

/ 3

rebeccanyc

,

Março

2016
1914 Paul Scheerbart - The Gray Cloth

1 não-lido

/ 1

baswood

,

Março

2016
1914 Miguel Unamuno - Mist/Niebla

2 por ler

/ 2

baswood

,

Fevereiro

2016
1916: Helene Hanff - Resources and General Discussion

12 por ler

/ 12

2wonderY

,

Fevereiro

2016
1916: Penelope Fitzgerald - Resources and General Discussion

5 por ler

/ 5

edwinbcn

,

Fevereiro

2016
1815: Anthony Trollope - Chronicles of Barsetshire V: The Small House at Allington

2 por ler

/ 2

MissWatson

,

Fevereiro

2016
1915: Kay Dick - Resources and General Discussion

4 por ler

/ 4

edwinbcn

,

Fevereiro

2016
1914 G K Chesterton - The Flying Inn

2 por ler

/ 2

edwinbcn

,

Fevereiro

2016
1815: Anthony Trollope - Chronicles of Barsetshire II: Barchester Towers

3 por ler

/ 3

rebeccanyc

,

Fevereiro

2016
MESSAGE BOARD

23 por ler

/ 23

edwinbcn

,

Janeiro

2016
1916: Jackson: Let Me Tell You

1 não-lido

/ 1

rebeccanyc

,

Janeiro

2016
1916: Jackson: Come Along with Me

1 não-lido

/ 1

rebeccanyc

,

Janeiro

2016
1916: Jackson - The Haunting of Hill House

2 por ler

/ 2

rebeccanyc

,

Janeiro

2016
1916: Jackson - The Lottery and Other Stories

2 por ler

/ 2

rebeccanyc

,

Janeiro

2016
1916: Shirley Jackson - Resources and General Discussion

7 por ler

/ 7

rebeccanyc

,

Janeiro

2016
1815: Anthony Trollope - Resources and General Discussion

26 por ler

/ 26

kac522

,

Janeiro

2016
1914 Selma Lagerlof - The Emperor of Portugallia

1 não-lido

/ 1

baswood

,

Janeiro

2016
1816: Charlotte Brontë - Resources and General Discussion

2 por ler

/ 2

SassyLassy

,

Janeiro

2016
Laurence Sterne - Resources and General Discussion

7 por ler

/ 7

edwinbcn

,

Janeiro

2016
1815: Anthony Trollope - Chronicles of Barsetshire I: The Warden

5 por ler

/ 5

rebeccanyc

,

Janeiro

2016
1914 Angel Island: Inez Haynes Gillmore

1 não-lido

/ 1

baswood

,

Dezembro

2015
1815: Anthony Trollope - He Knew He Was Right

2 por ler

/ 2

rebeccanyc

,

Novembro

2015
1914 - Minor Authors & Miscellaneous

3 por ler

/ 3

baswood

,

Novembro

2015
1914: Dreiser - The Titan

5 por ler

/ 5

edwinbcn

,

Novembro

2015
1815: Anthony Trollope - Palliser series III: The Eustace Diamonds

3 por ler

/ 3

StevenTX

,

Outubro

2015
1815: Anthony Trollope - Palliser series VI: The Duke's Children

2 por ler

/ 2

rebeccanyc

,

Setembro

2015
1914: Marguerite Duras - Resources and General Discussion

7 por ler

/ 7

edwinbcn

,

Setembro

2015
1815: Anthony Trollope - Palliser series IV: Phineas Redux

3 por ler

/ 3

kac522

,

Setembro

2015
1815: Anthony Trollope - Palliser series V: The Prime Minister

2 por ler

/ 2

rebeccanyc

,

Agosto

2015
1914: Edgar Rice Burroughs - Tarzan of the Apes

20 por ler

/ 20

StevenTX

,

Agosto

2015
1915: Jean Stafford - Resources and General Discussion

4 por ler

/ 4

rebeccanyc

,

Julho

2015
1914: Robert Tressell - The Ragged Trousered Philanthropists

8 por ler

/ 8

elenchus

,

Junho

2015
1915: John Buchan - The Thirty-Nine Steps

7 por ler

/ 7

MissWatson

,

Junho

2015
1815: Anthony Trollope - Palliser series II: Phineas Finn

3 por ler

/ 3

StevenTX

,

Junho

2015
1915: Saul Bellow - Dangling Man

4 por ler

/ 4

elenchus

,

Abril

2015
1915: Charlotte Perkins Gilman - Herland

1 não-lido

/ 1

StevenTX

,

Abril

2015
1815: Anthony Trollope - Palliser series I: Can You Forgive Her?

7 por ler

/ 7

StevenTX

,

Março

2015
1915: Edgar Rice Burroughs - Pellucidar

1 não-lido

/ 1

StevenTX

,

Março

2015
1914 Natsume Soseki - Kokoro

1 não-lido

/ 1

baswood

,

Fevereiro

2015
1915: Saul Bellow - The Dean's December

3 por ler

/ 3

baswood

,

Fevereiro

2015
1915: Saul Bellow - Resources and General Discussion

28 por ler

/ 28

tomcatMurr

,

Fevereiro

2015
1915: Edgar Rice Burroughs - The Return of Tarzan

2 por ler

/ 2

edwinbcn

,

Fevereiro

2015
1914: Dylan Thomas - Resources and General Discussion

11 por ler

/ 11

tonikat

,

Fevereiro

2015
1814: Mikhail Lermontov - Resources and General Discussion

4 por ler

/ 4

edwinbcn

,

Fevereiro

2015
1815: Anthony Trollope - The Way We Live Now

4 por ler

/ 4

MissWatson

,

Fevereiro

2015
1914: Howard Fast - Resources and General Discussion

3 por ler

/ 3

baswood

,

Fevereiro

2015
1915: Joseph Conrad - Victory

2 por ler

/ 2

baswood

,

Fevereiro

2015
1914: Colin MacInnes - Resources and General Discussion

6 por ler

/ 6

baswood

,

Fevereiro

2015
1915 - Minor Authors & Miscellaneous

7 por ler

/ 7

2wonderY

,

Fevereiro

2015
1914: William S. Burroughs - The Wild Boys: A Book of the Dead

7 por ler

/ 7

DuncanHill

,

Janeiro

2015
1914: Roussel - Locus Solus

2 por ler

/ 2

baswood

,

Janeiro

2015
1914 Poetry published in 1914

14 por ler

/ 14

baswood

,

Janeiro

2015
1915: Saul Bellow - Seize the Day

5 por ler

/ 5

edwinbcn

,

Janeiro

2015
1913-14 The Golem appears in serial form in Die Weissen Blatter.

3 por ler

/ 3

elenchus

,

Janeiro

2015
1915: D. H. Lawrence - The Rainbow

3 por ler

/ 3

edwinbcn

,

Dezembro

2014
2015: LIST OF CENTENNIALS

7 por ler

/ 7

edwinbcn

,

Dezembro

2014
1915 Poetry

1 não-lido

/ 1

baswood

,

Dezembro

2014
2014: LIST OF CENTENNIALS

16 por ler

/ 16

edwinbcn

,

Dezembro

2014
1914 Edgar Rice Burroughs: At the Earth's Core

2 por ler

/ 2

StevenTX

,

Dezembro

2014
1914; D H Lawrence: [The Prussian Officer and other stories]

2 por ler

/ 2

elenchus

,

Setembro

2014
1914: Romain Gary - Resources and General Discussion

6 por ler

/ 6

lilisin

,

Setembro

2014
1914 Hermann Hesse, Rosshalde

2 por ler

/ 2

edwinbcn

,

Setembro

2014
1914: Juan Ramón Jiménez - Platero and I

3 por ler

/ 3

baswood

,

Agosto

2014
1914: William S. Burroughs - The Yage Letters

3 por ler

/ 3

elenchus

,

Agosto

2014
1914: Octavio Paz - Resources and General Discussion

3 por ler

/ 3

baswood

,

Junho

2014
James Joyce: Dubliners

1 não-lido

/ 1

baswood

,

Abril

2014
1914: H. G. Wells - The World Set Free

1 não-lido

/ 1

StevenTX

,

Março

2014
Laurence Sterne - Tristram Shandy

2 por ler

/ 2

baswood

,

Março

2014
Ralph Ellison - The Invisible Man

4 por ler

/ 4

rebeccanyc

,

Fevereiro

2014
Camus - Exile and the Kingdom - discussion

2 por ler

/ 2

baswood

,

Fevereiro

2014
1913: Wharton - The Custom of the Country

4 por ler

/ 4

Diane-bpcb

,

Fevereiro

2014
1914 - Saratchchandra Chattopadhyay

1 não-lido

/ 1

baswood

,

Janeiro

2014
Camus - The Fall - discussion

4 por ler

/ 4

baswood

,

Janeiro

2014
1914: William S. Burroughs - Resources and General Discussion

2 por ler

/ 2

StevenTX

,

Janeiro

2014
1914: Duras - India Song

1 não-lido

/ 1

StevenTX

,

Janeiro

2014
1914: Duras - The Sailor from Gibraltar

1 não-lido

/ 1

StevenTX

,

Janeiro

2014
1914: Duras - Hiroshima Mon Amour

1 não-lido

/ 1

StevenTX

,

Janeiro

2014
1914: Duras - The Sea Wall

3 por ler

/ 3

StevenTX

,

Janeiro

2014
1913 - Minor Authors & Miscellaneous

12 por ler

/ 12

baswood

,

Dezembro

2013
Albert Camus - Resources and General Discussion

27 por ler

/ 27

StevenTX

,

Dezembro

2013
Laurence Sterne - A Sentimental Journey

3 por ler

/ 3

baswood

,

Dezembro

2013
This is a feature balloon