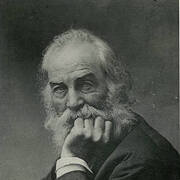 Conhecimento Comum
Nome padrão

Nome de batismo

Outros nomes

Data de nascimento

Data de falecimento

Local de enterro

Sexo

Nacionalidade

País (para mapa)

Local de nascimento

Local de falecimento

Causa da morte

Locais de residência

Washington, D.C., USA
Brooklyn, New York, USA
Georgetown, Colorado, USA
Laurel Springs, New Jersey, USA
New Orleans, Louisiana, USA

Educação

Ocupação

poet
novelist
short-story writer
essayist
editor
teacher (

mostrar todas

12)
nurse
typesetter
apprentice printer
convention delegate
journalist
clerk (Bureau of Indian Affairs ∙ U.S. Department of the Interior)

Organizações

Premiações

The Hall of Fame for Great Americans (1930)
Gave Commencement Address at Dartmouth College (1872)
Walt Whitman Bridge

Pequena biografia

Walter Whitman Jr. (May 31, 1819 – March 26, 1892) was an American poet, essayist and journalist. A humanist, he was a part of the transition between transcendentalism and realism, incorporating both views in his works. Whitman is among the most influential poets in the American canon, often called the father of free verse. His work was controversial in his time, particularly his 1855 poetry collection Leaves of Grass, which was described as obscene for its overt sensuality.

Born in Huntington on Long Island, Whitman resided in Brooklyn as a child and through much of his career. At the age of 11, he left formal schooling to go to work. Later, Whitman worked as a journalist, a teacher, and a government clerk. Whitman's major poetry collection, Leaves of Grass, was first published in 1855 with his own money and became well known. The work was an attempt at reaching out to the common person with an American epic. He continued expanding and revising it until his death in 1892. During the American Civil War, he went to Washington, D.C. and worked in hospitals caring for the wounded. His poetry often focused on both loss and healing. On the death of Abraham Lincoln, whom Whitman greatly admired, he wrote his well known poems, "O Captain! My Captain!" and "When Lilacs Last in the Dooryard Bloom'd", and gave a series of lectures. After a stroke towards the end of his life, Whitman moved to Camden, New Jersey, where his health further declined. When he died at the age of 72, his funeral was a public event.

Whitman's influence on poetry remains strong. Mary Whitall Smith Costelloe argued: "You cannot really understand America without Walt Whitman, without Leaves of Grass ... He has expressed that civilization, 'up to date,' as he would say, and no student of the philosophy of history can do without him." Modernist poet Ezra Pound called Whitman "America's poet ... He is America."
Estatísticas
Obras

530

Also by

102

Membros

27,024

Popularidade

#766

Avaliação

4.1
Resenhas

235

ISBNs

1,061

Idiomas

24

Favorito

170

Sobre

1

Pedras de toque

399