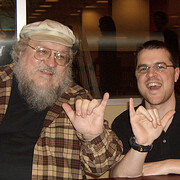 Conhecimento Comum
Nome de batismo

Outros nomes

Data de nascimento

Sexo

Nacionalidade

Local de nascimento

Locais de residência

Santa Fe, New Mexico, USA
Bayonne, New Jersey, USA (35 East First Street)
Chicago, Illinois, USA
Dubuque, Iowa, USA
Hollywood, California, USA

Educação

Ocupação

Relacionamentos

Organizações

Premiações

Guest of Honour, Eastercon, UK (1993)
Summa Cum Laude (1970 Northwestern University)
E.E. Smith Memorial Award for Imaginative Fiction (2004)

Agente

Pequena biografia

George R. R. Martin was born in 1948 in New Jersey. Having been a journalist, he now devotes himself to writing. He is a prolific author of short stories, which have garnered numerous nominations and wins for the field's major awards, including the Hugo, Nebula, Stoker, and World Fantasy awards.




George Raymond Richard Martin (born George Raymond Martin; September 20, 1948), also known as GRRM, is an American novelist and short story writer, screenwriter, and television producer. He wrote the series of epic fantasy novels A Song of Ice and Fire, which was adapted into the HBO series Game of Thrones (2011–2019).

In 2005, Lev Grossman of Time called Martin "the American Tolkien", and in 2011, he was included on the annual Time 100 list of the most influential people in the world.

George Raymond Martin (he adopted the confirmation name Richard at 13 years old) was born on September 20, 1948, in Bayonne, New Jersey, the son of longshoreman Raymond Collins Martin and Margaret Brady Martin. On his mother's side his family used to be wealthy, and owned a successful construction business, but they lost it all in the Great Depression, something Martin was reminded about every day when he passed what used to be his family's dock and house. It made him feel that even if they were poor, they came from greatness that had been taken away from them. He has two younger sisters, Darleen and Janet. His mother was of half Irish ancestry. He also acknowledges French, English, Welsh and German roots, which were confirmed on the television series Finding Your Roots. However, while he also believed he was a quarter Italian because of who he was told was his paternal grandfather, a DNA test on the show confirmed his Irish and other ancestries but excluded any Italian ancestry, showing instead he is approximately a quarter Ashkenazi Jewish.
Estatísticas
Obras

576

Also by

188

Membros

200,422

Popularidade

#20

Avaliação

4.2
Resenhas

4,435

ISBNs

2,428

Idiomas

33

Favorito

830