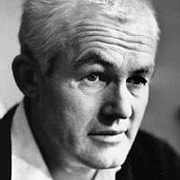 Colin MacInnes
(1914–1976)
Conhecimento Comum
Nome padrão

Outros nomes

Data de nascimento

Data de falecimento

Sexo

Nacionalidade

País (para mapa)

Local de nascimento

Locais de residência

Educação

Ocupação

Relacionamentos

McInnes, James Campbell (father)
Thirkell, Angela (mother)
Kipling, Rudyard (cousin)
Baldwin, Stanley (cousin)
Thirkell, Lance (half brother)
McInnes, Graham (brother) (

mostrar todas

7)
Burne-Jones, Edward (great-grandfather)

Organizações

Pequena biografia

Son of singer Joseph Campbell McInnes and novelist Angela Thirkell, Colin MacInnes was born in London, raised in Australia, and returned to England in 1930. He served the UK in WWII, after which he wrote his first novel, To the Victor the Spoils, and worked for BBC Radio until he could earn a living writing.

He was openly bisexual, and though obviously in love with the city of London, remained relatively realistic about urban life. This is reflected in his writing, which often addresses race relations of the day, urban squalor, and includes frank and realistic depictions of gay and lesbian characters.
Estatísticas
Obras

20

Also by

3

Membros

1,210

Popularidade

#21,234

Avaliação

3.6
Resenhas

27

ISBNs

87

Idiomas

6

Favorito

3

Sobre

1

Pedras de toque

32