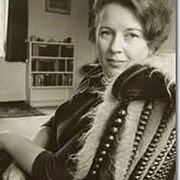 Conhecimento Comum
Data de nascimento

Data de falecimento

Local de enterro

Sexo

Nacionalidade

Local de nascimento

Local de falecimento

Locais de residência

Educação

Ocupação

Relacionamentos

Pequena biografia

Jane Grigson was born in Gloucester, England and brought up in Sunderland, where her father George Shipley McIntire was town clerk.[1] She attended Sunderland Church High School and Casterton School, Westmorland, then went on to Newnham College, Cambridge University, where she read English. On graduating from university in 1949, she spent three months in Florence. After working in art galleries, Grigson went into publishing, joining George Rainbird's company in 1953 as a picture researcher for the encyclopedic People, Places, Things and Ideas. The editor of the book was poet and critic Geoffrey Grigson (1905-85), whom she later married, becoming his third wife. Grigson subsequently worked as a translator, winning the John Florio prize in 1966 for her work with Father Kenelm Foster on the translation of Cesare Beccaria's On Crimes and Punishments (1966). Grigson's growing interest in food and cooking led to the writing of her first book, Charcuterie and French Pork Cookery (1967), which was accorded the unusual honour for an English food writer of being translated into French. She subsequently became food columnist for The Observer, from 1968 until her death in 1990. Her long-lasting association with the newspaper produced some of her most successful books, such as Good Things (1971), Food With the Famous (1979), The Observer Guide to British Cookery (1984) and The Observer Guide to European Cookery (1983). The International Association of Culinary Professionals (IACP) has created the Jane Grigson Award in her honour. Jane Grigson died in Broad Town, Wiltshire, on the eve of her 62nd birthday. Her daughter Sophie Grigson (b. 1959) is also a cookery writer and broadcaster.
Estatísticas
Obras

29

Also by

3

Membros

2,249

Popularidade

#11,402

Avaliação

4.2
Resenhas

16

ISBNs

103

Idiomas

3

Favorito

2

Pedras de toque

31